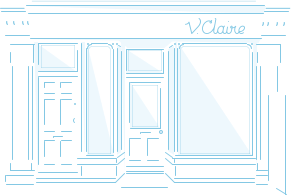 Welcome to V Claire Natural Beauty Salon & Eco Shop in Dublin, D6W ED99. Our philosophy is to use the finest certified natural and organic products to get the best results for your skin & well being.  Our online shop offers high quality plant based & vegan brands to guarantee you, the best for your skin. Our expertise in facial treatments, make us one of the leading  Beauty Salon in Ireland.
Meet Virginie Vuillaume

The Frenchwoman behind V Claire intent on transforming the way men and women feel about skincare. Having studied in Paris where she qualified as a beauty therapist, Virginie moved to Dublin. Here she studied Shiatsu, Macrobiotics and Feng Shui applying her skills in high profile salons before establishing Virginie Claire in 1996. Together with her team, she offers invaluable advice on good skin health so clients feel as great as they look.
Our Products

Changing your skincare will change your life. Our passion for 100% natural products comes from understanding the benefits of using natural organic active ingredients. Whether you want to address acne, sensitivity, dryness or ageing, you can trust the choice of our skincare and cosmetics to deliver a high quantity of active ingredients to your skin to feel and see the improvement. Discover Centella & Hydraflore Skincare, Couleur Caramel Make-up & Najel Toiletries, all natural certified Cosmebio and Vegan brands at V Claire.