Springtime means a skincare switch-up! Did you notice how tight and sensitive your skin can feel during the winter months? Just like with the change of season and your skin, we need to adapt with the new changes year round. Here is RSVPs Top Irish Beauty Products from V Claire that
will restore radiance and hydration to every skin after the winter.
To start, this Top Irish Beauty Product is this smooth & light cream restores the skin's ability to retain water for long lasting hydration & soothing results. Creme Hydra + contains 2 chains vegetal Hyaluronic Acid, Vitamin E, Shea Butter, Centella Asiatica & Rosemary. This provides intense hydration, promote cell regeneration, repair & protect the film hydrolipidic. Therefore, the skin feels plump & soft with a glowing finish.

Apply Creme Hydra + in the morning and/or evening all over the face, neck, eyelids & lips with gentle circular movements. Massage until total absorption of the cream into the skin. During the winter months, you can apply a few drops of Elixir Oil Hydra + for extra nourishment, or/ and Serum Booster + for extra hydration.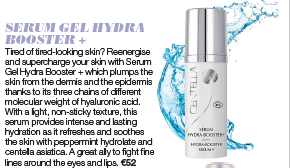 With the second choice from top Irish Beauty Products, this hydrating serum gel, can regenerate and supercharge your skin. Ultra concentrate vegetal Hyaluronic Acid , containing 3 chains of different molecular weight of HA. This acts as a cushion to plump the skin from the dermis & the epidermis. With a light, non-sticky texture, this serum provides intense and lasting hydration. Refresh & soothe the skin with Peppermint hydrolate & Centella Asiatica,. In conclusion the Skin regains optimal moisture levels and plumpness.
Anti-age foundation of medium coverage to give glow, dewiness, youth and vitality. It uses Hyaluronic Acid, Inca Inchi Oil, Brown Algae and Cocoa. Note how well hydrated and comforted the skin is with this foundation. It was only released in 2017 and is already a top seller. It truly shows the treatment power of Couleur Caramel. The skin is soft, radiant and enviable. It is best applied with Brush n°04. Additionally fingers may also be used to apply lightly to each area, blended in with a gentle touch.
As you know, Centella, Hydraflore, Couleur Caramel and Najel are professional certified brands and we are all about natural quality ingredients with results. It's what we look for. So now, what do you look for? Check out our recent blog post on what skincare is best for you starting with cleansing. This is THE single most important step in your skincare regime.
Above all, be kind to yourself and your skin!
Also, check out our Instagram for more updates on everything skin!