After the most important step of cleansing, when you clean the skin of impurities and the pH is balanced, you might ask yourself, what moisturizer should I use? A good moisturizer should be for your skin type and condition and will hydrate, nourish and protect… from here everything else is a bonus!
So what is a moisturizer? it's an emulsion which means it's made of water and oil. Generally, the richer the cream feels, the more oil it has in its base and will usually be better for a dry skin. The lighter a cream, the more water in the base and can be more appealing to an oily skin. Sounds so simple, yes? Well… not really! A moisturizer's texture is very important to the user, but so often, we're choosing the wrong product for our skin type. Very regularly a woman will look at her skin, see visible pores around the nose, and automatically deems her skin to be oily: she will buy her cream to compliment this self-diagnosis. After a few weeks, months or even years, she'll wonder why her skin feels so tight, looks so dry, she just can't moisturize enough!
Then how we choose? Recommendations from a Skin Therapist about your skin type and condition is the perfect place to start. Your skin care specialist will listen too your skin overview, will analyse visually and by touch, will help you to discover tour skin type and any conditions present: i.e. are you dry, oily, sensitive, etc. Your therapist can apply moisturiser of their recommendation so you can feels its effect, how it penetrates and its finish.
And what exactly should a moisturizer do? As mentioned at the beginning: hydrate, nourish and protect! Being an organic range, CENTELLA uses many different vegetable oils in the base of their moisturizers: Shea Butter, Argan, Jojoba, Sweet Almond.. the list goes on. These vegetable oils contain essential fatty acids, vital to normal cell functioning, and are full of antioxidant Vitamins: A, C, E, F … and it is these oils that will hydrate, nourish and protect. On top of that CENTELLA use other plant extracts to give other benefits to this skin: regeneration, toning, firming, plumping, balancing., healing, calming, stimulating, all to illuminate the skins complexion!
So sun cream isn't necessary to protect? YES IT IS! When needed: as in when your will be outdoors for long periods of time exposed to UV rays, winter or summer. If day to day you are indoors and not outside in daylight hours particularly in winter: Please do not panic about SPF (sun protection factor) being included in your moisturiser. A moisturiser is applied once in the morning, so even if you have an SPF of 20 included in the cream, you would have to reapply by midday to give your skin UV protection again in the afternoon. Let's be honest who reapplies their daily moisturiser? Yep, no client I know! That's why everyone should have an SPF to hand at home, in the car, in the bag, wherever, so when the great outdoors comes a calling, your're readily protected.
How should we apply a moisturizer? take a small amount and simply dot the cream onto each areas of your face and neck, not forgetting to include your eyelids and lips. Using your fingertips massage the cream into the skin: it will spread beautifully with the heat from your fingers and massaging it in thoroughly guarantees its penetration into the skin.
Top V.Claire Moisturizer Picks
We would always recommend to to visit one of our trained skin therapist for the best advice on moisturizer you should use, but our hot sellers include:
CENTELLA Hydra Plumping Cream
This smooth & light cream restores the skin's ability to retain water for long lasting hydration & soothing results.
Creme Hydra + contains 2 chains vegetal Hyaluronic Acid, Vitamin E, Shea Butter, Centella Asiatica & Rosemary to provide intense hydration, promote cell regeneration, repair & protect the film hydrolipidic.
The skin feels plump & soft with a glowing finish.
HYDRAFLORE Tenderness Cream
This smooth cream is ideal for bringing comfort, suppleness, hydration & nourishment to sensitive or reactive skin. Once the epidermis is intensively moisturized & nourished, the complexion becomes radiant.
Enriched with Organic Musk Rose oil, a real ally of dry, sensitive, devitalized & dehydrated skin, this cream immediately soothe reactive skin.
his cream protects against external factors due to the protective action of ingredients which strengthen the skin natural protective barrier.
CENTELLA Anti-Age Regenerating Cream
Formulated to protect & nourish the epidermis to restore skin firmness & radiance. Exceptional care with a rich & melting texture, this high quality cream is formulated for mature & dehydrated skins in order to give them a second youth. 
Because of Centella Asiatica Stem Cells, this essential care answers to the needs of the skin, and delivers an anti-aging action: the wrinkles are smoothed, the face firmer & the complexion unified. This anti-aging organic skin care allows to find again a brilliant youthful skin. 15 active ingredients.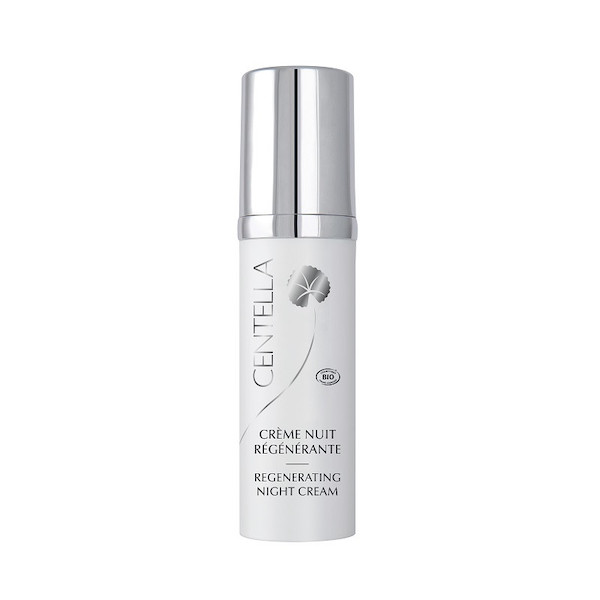 CENTELLA Lifting Night Cream
The skin doesn't have the same activity at day & night: the skin regenerates 3 times faster at night than day, the cellular regenerating phase reaches a peak between 1 & 3 AM, but the skin also dehydrates a lot during this period, and it increases with age.
Applying a night cream is an essential gesture for mature skins in order to re hydrate the skin & boost the cellular regeneration that decreases when age increases.
Check out our Instagram for more skincare updates and advice!