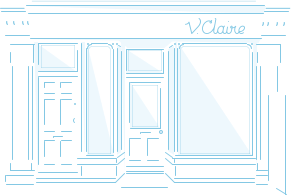 Beauty Salon
Are you dreaming about perfect skin? Would you like to have a glowy and smooth complexion, free from any kind of blemishes, pigmentation, acne, large pores, redness or dehydration… Surely you also would like to prevent your skin from ageing and do something about skin dryness and lines. All of it is within your reach – just focus on the right skincare, and you will be much happier with how you look.
Your carefully designed routine should include both: the products you use at home daily and the treatments and advice coming from professionals. We highly recommend visiting a beauty salon, where a team of qualified skincare's specialists will pick the best treatments for you. At V. Claire beauty salon in Dublin 6 this is exactly what we do! You can trust our beauty experts to take care of you. They will recognize your needs, tell you which treatments can improve its condition and create the perfect skincare routine for you. No matter what your concerns are, we can recommend you the best skincare solutions to achieve a healthy and glowing skin. Just contact us today!
V. Claire Beauty Salons' services
You can book appointments for the following:
– Face care,
– Body care,
– Hair removal,
– Hands and Feet care.
The offer includes the most popular beauty treatments, from certified natural & organic  Centella facials, with anti-aging benefits and hyaluronic acid for dehydrated skin,  through eyelash and brow tint and trim,  to waxing and body care. If you wish to feel good – do not hesitate to call us and book your favorite treatment. To see the whole list of available services, go to the Treatments section.
On our website you can also shop for high-quality cosmetic products. Whether you are looking for a cleanser for dehydrated skin, or would like to get an organic BB cream and blush – check out our offer. We are the experts when it comes to makeup and skincare products based on organic ingredients. Here you can shop for brands such as Centella, Hydraflore, Couleur Caramel, Najel, and Plantes & Parfums. Not sure which natural products to choose? Feel free to contact us and tell us what you need!
Meet Virginie Vuillaume

The Frenchwoman behind V Claire intent on transforming the way men and women feel about skincare. Having studied in Paris where she qualified as a beauty therapist, Virginie moved to Dublin. Here she studied Shiatsu, Macrobiotics and Feng Shui applying her skills in high profile salons before establishing Virginie Claire in 1996. Together with her team, she offers invaluable advice on good skin health so clients feel as great as they look.
Our Products

Changing your skincare will change your life. Our passion for 100% natural products comes from understanding the benefits of using natural organic active ingredients. Whether you want to address acne, sensitivity, dryness or ageing, you can trust the choice of our skincare and cosmetics to deliver a high quantity of active ingredients to your skin to feel and see the improvement. Discover Centella & Hydraflore Skincare, Couleur Caramel Make-up & Najel Toiletries, all natural certified Cosmebio and Vegan brands at V Claire.